Friday, March 18, 2005
It's been a pretty rubbish week all in all, numerous scares over the health of my cat, Squeak, trying to keep my girlfriend's spirit's up (she loves Squeak) , loads of work and not enough time to do much music. Hopefully Squeak is on the mend and we won't find that there's anything else wrong with her. Off work most of next week so should get some time to experiment with the P3. Only 5 weeks to go now 'til the Awakenings gig so I need to decide what I'm going to do for it...
Posted by

Modulator ESP
at 6:07 PM

Monday, March 14, 2005
Serial no #1001, the first of the production models, and it's a beauty.
Posted by

Modulator ESP
at 11:48 AM

Monday, March 07, 2005
Good news today from Colin Fraser the designer and manufacturer of the
Sequentix P3 Analogue Sequencer
, the production cases arrived today and units should hopefully be shipping by the weekend. Sent my cheque off today so if all goes to plan I should be getting my P3 sometime next week.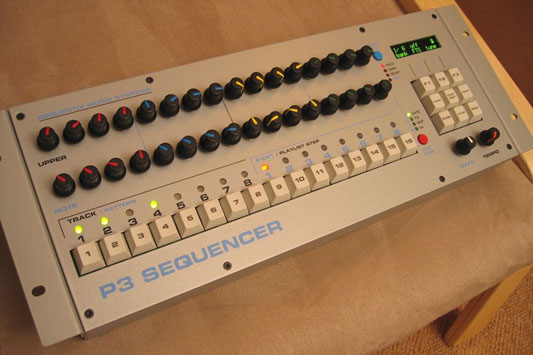 Posted by

Modulator ESP
at 11:00 PM